Are your video files affected by a STOP/DJVU ransomware attack and are you now unable to access them? The ransomware virus is a new and advanced computer virus that mainly affects your system through mails, web pages, and other sources. The virus is terrible and may harm your system up to great extent.
Ransomware can affect your system and damage the files existing on it. This virus encrypts the stored video files and makes them inaccessible. When you detect ransomware, the hackers will send you the tools to decrypt the files and make them accessible again. Also, the process to decrypt any file takes time, and there is no guarantee that the file will be decrypted completely. In such cases, you must know how to repair video files affected by Ransomware. Here, in this article, we have provided all the methods to decrypt your essential files affected by STOP/DJVU ransomware.
What Makes Ransomware Affect Your Video Files?
Given below are some instances that could cause ransomware to affect your video files:
When you open any untrustworthy software download sources
Fake or unauthorized software updates or spam email campaigns
Malicious software programs like Trojans
Whatever is the cause of corrupt video files on your system, it is important to apply proper methods to repair video files affected by Ransomware.
How do I Repair STOP/DJVU Ransomware Affected Video files?
These malicious Ransomware programs are mainly developed by cybercriminals to encrypt certain files and lock them from access. It is very harmful as the file encryption is randomly generated and can't be decoded. There are several MP4 video repair software programs and methods available online that you can try. Given below are some best ways to access STOP/DJVU encrypted files:
Method 01: Isolate the Device Infected by Ransomware
Whenever you encounter that your device is infected, it is important to isolate it. This prevents the further spread of the virus throughout the local networks. Given below are some methods that you can apply to isolate the infected device:
Disconnect it from the Internet: First, avoid connecting any outside devices to connect to your computer. Also, ensure that the Ethernet cable is unplugged and even the electrical cord is disconnected from the power supply.
Remove External Connected Devices: It does not take much time for ransomware to spread from the infected machine to all the storage devices directly connected to it. So, it is important to safely remove all storage devices, including USB flash drives, hard drives, and external hard drives, at the earliest.
Log out from the Cloud storage: The ransomware may not only encrypt the files stored on the hard drive but also erases them. To avoid such a situation, you need to immediately shut down your PC and log out of any cloud storage accounts connected to it. Temporarily uninstall the software programs that you have recently deleted till you fix the issue caused by STOP/DJVU virus.
Method 02: Check the Infected Hard Drive
For this, you need to attach the virus-infected USB, SD card or HDD to your computer. Then, go through the following instructions to repair virus infected video through CMD:
Firstly, type CMD in the search bar located in the bottom-left corner of your system to open the command prompt console.
Now, you need to type the following command in the command prompt. Tap the "Enter" key to run chkdsk E: /f (In place of E, you need to provide the drive address from where you have to restore virus-infected files)
Then, click the "Y" button and then press Enter key.
Now type "attrib -h -r -s /s /d *.*" in the command prompt window and press Enter key.
After completing the above steps, your device will start diagnosing the problems with the virus-infected external hard drive or USB. This will help you to repair the video files affected by Ransomware in a reasonable amount of time.
Method 03: Use Video File Repair Software
There are many video repair programs available online that you can use to repair MP4/MOV/WMV video files. We recommend you use – Stellar Repair for Video, which works best in a such critical situation. This video repair software is easy to use and can help you to repair multiple video files simultaneously.
The video repair process with Stellar Repair for video software is so easy that even non-technical users can use it. Given below are simple mp4 corrupted repair steps that you can apply to know how the software actually works:
First of all, download and install the Stellar Repair for Video software on your system.
Launch the software and from the home screen, click the "Add File" button to select the file that you need to repair.
Now, Click the "Repair" button to start the repair process.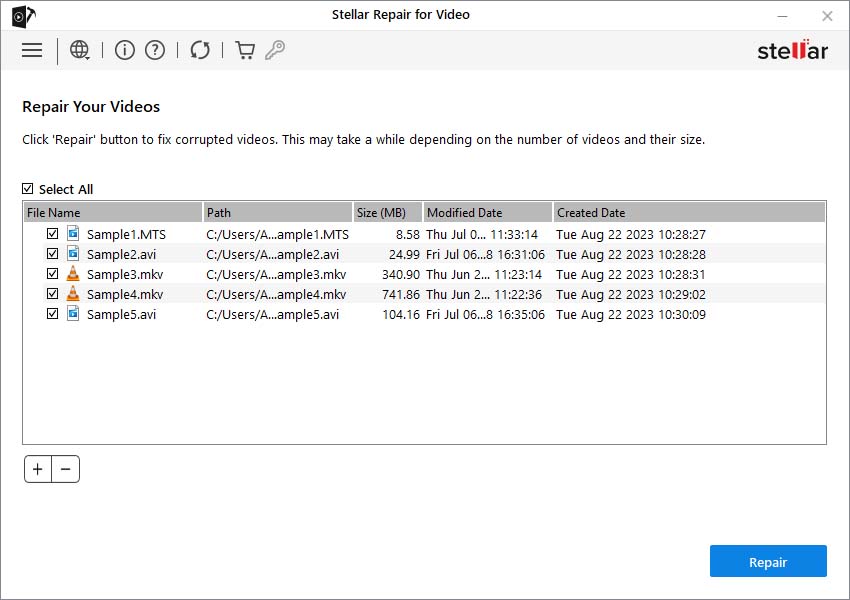 After the process is complete, you can preview the repaired video file. Then, save them at the desired location.
Quick Steps to Prevent a Ransomware Attack in the Future
Given below are some best practices that you can apply to prevent your files from ransomware attacks:
It is important to install trustworthy antivirus and anti-malware programs on your computers and network.
You must keep the network's firewall and operating system installed in your system updated.
Avoid downloading any software or system-related updates from unverified websites
Don't open the attachments received in spam emails
Never connect your system to unsecured or open Wi-Fi connections
It is good practice to use a VPN to access the internet
You need to create a restore point on your device that you can use as a backup to restore deleted data in the future.
Conclusion:
Through the methods are quite simple and easy to implement, it is important to be careful while applying them. We have also provided some tips that you can apply to avoid such a situation in the future. The best solution to tackle such instances is Stellar Repair for video software. This video repair software program can help you to repair damaged or corrupted video files of all types and sizes. Must give it a try!