Due to the COVID-19 problem, CA coaching has shifted from offline to online lectures. Furthermore, CA online classes are the most remarkable approach to attending lessons from professional CA instructors. Online classes have numerous benefits. Yet, choosing the best CA virtual classes is a challenge.
We all know that VSI Jaipur, the Best CA Institute in India, has helped several students achieve their dreams of being CA. Now, students can avail of VSI online classes so that students throughout India can access the finest learning with no geographical boundaries.
The institution offers low-cost online courses delivered by renowned professors whose consistent efforts always provide the greatest outcomes. The VSI Online Classes may greatly assist students in their preparation for the CA Foundation, Intermediate, and Final examinations. This is evident from the CA Inter May 2022 results. Two VSI online classes students secured AIR 5 and AIR 7 by scoring 639 and 623 out of 800.
Thus, it is understandable why the CA online coaching from VSI is so popular among students.
5 Benefits of Joining the VSI CA Online Classes
VSI Jaipur offers the best CA Online classes in India for all three levels of the CA examination. Now let's check why you should join VSI's CA Online Classes.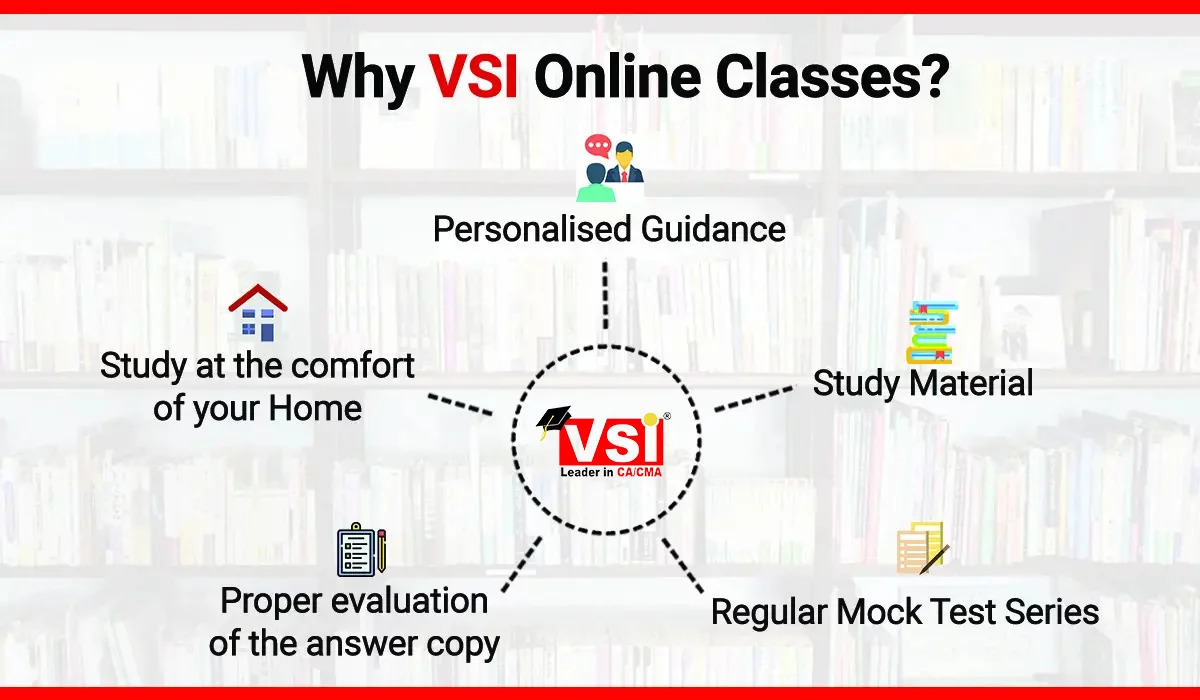 Lectures from the Expert Teachers
No matter what you opt for, online or offline classes, there will be no compromise in the quality of education and teaching. Both in offline and online classes, VSI Jaipur has top faculty.
Moreover, the best subject experts will take your classes to help you clear your fundamentals. Furthermore, our teachers aim to offer exam-oriented lectures to help you clear your concept quickly, like offline students.
Classes on VSI's Robust Platform
VSI Jaipur understands that online students' primary concerns are network connectivity and class streaming. Hence, some students feel reluctant to opt for CA Online Classes.
Unlike most other CA coaching institutes, VSI Jaipur conducts online classes on its own robust and functional platform. So that students may experience uninterrupted learning and enhanced conceptual understanding. It integrates the most recent features into its platform. Consequently, you will have no trouble attending your CA online coaching.
Connect With Faculties for Doubt-solving
Another challenge with online classrooms that students confront is how they will communicate with their instructors and solve their doubts. To address this problem, VSI Jaipur's CA virtual classes give each batch access to a private Telegram group. Thus, students may communicate with their instructors at any time. As a result, the lecturers will provide timely responses to your questions.
Regular Mock Test Series Covering the Syllabus
CA exam preparation is complete if you assess your preparation level by appearing in mock tests. After the timely completion of the CA Online lectures, VSI Jaipur schedules frequent mock tests for the students.
Also, the VSI Jaipur's mock tests will assist you in identifying your weaknesses so that you can improve before exams and achieve high marks. You can also improve your answer presentation from the VSI marking scheme based on the ICAI pattern and earn marks for writing answers that score well.
You can recognize the most frequent mistakes you make and focus more on avoiding them on the exam. Another advantage of VSI's sample exams is that you can conquer your fear of failing exams.
Personalized Guidance to Each Student
With appropriate guidance, VSI feels it is easier for students to pass the CA examinations and get high scores. Therefore, VSI provides personalized attention to all its students depending on their success on mock tests.
The counsellors will advise students through telephone discussions, regardless of whether they're enrolled in regular or online classes.
If you're interested, then you can join our online classes. Enrolling in the VSI classes is a simple procedure. So you need to visit the VSI's official website, check for online classes, fill out the registration form, and make the payment, and you are done. After successful registration, you will get a direct link to the class portal and the software to join the classes.
VSI Jaipur May 2022 Results
Look at the VSI Jaipur's CA Inter and CA Final June 2022 results. So, two students secured AIR 5 and AIR 7 by scoring 639 and 623 out of 800.
Additionally, VSI students have successfully achieved ranks in CA Final June 2022 attempt. The students have secured All India Rank 7, 12, 13, 17, 31, and 34.
Conclusion
By now, students must clearly know what makes VSI Jaipur's CA Online Classes. If you wish to learn more about VSI Jaipur online courses, visit the official website.